Welcome to Study Hub!
Looking for effective study strategies, opportunities to learn with peers, and ways to improve your learning and academic success? Then you've come to the right place!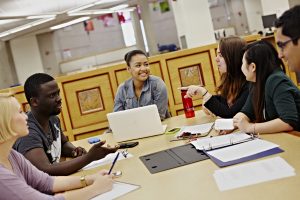 University courses can be a real challenge. The deep learning required to succeed at university requires a lot of effort and energy. But don't worry,  you're not alone! There are lots of services on campus to help you learn more effectively, and forming study groups or finding a tutor can be a really smart strategy.
Study Hub can help by connecting you with information on:
How to maximize your learning power
Joining existing study groups or forming new ones, so you can help each other learn
Tutoring
Here, you'll find resources to help build your study skills and deepen your learning. Check out the many free campus academic support resources under "Free Help".  If do-it-yourself study groups or fee-for-service tutoring are what you're looking for, read on.  We can help you connect, and also provide tips to get the most out of group or individual study sessions.
Connect with Study Groups & Tutors
The Study Hub listings area is a separate site where students can:
start or find a study group
connect with fee-for-service tutors or
 tutors can advertise their services.
Although the university does not vet or verify information posted on the site, it can be an excellent resource for connecting with other people interested in study groups and tutoring.